Mathematical models of cancer metabolism
Cancer & Metabolism
2015
3:14
Received: 24 April 2015
Accepted: 9 December 2015
Published: 22 December 2015
Abstract
Metabolism is essential for life, and its alteration is implicated in multiple human diseases. The transformation from a normal to a cancerous cell requires metabolic changes to fuel the high metabolic demands of cancer cells, including but not limited to cell proliferation and cell migration. In recent years, there have been a number of new discoveries connecting known aberrations in oncogenic and tumour suppressor pathways with metabolic alterations required to sustain cell proliferation and migration. However, an understanding of the selective advantage of these metabolic alterations is still lacking. Here, we review the literature on mathematical models of metabolism, with an emphasis on their contribution to the identification of the selective advantage of metabolic phenotypes that seem otherwise wasteful or accidental. We will show how the molecular hallmarks of cancer can be related to cell proliferation and tissue remodelling, the two major physiological requirements for the development of a multicellular structure. We will cover different areas such as genome-wide gene expression analysis, flux balance models, kinetic models, reaction diffusion models and models of the tumour microenvironment. We will also highlight current challenges and how their resolution will help to achieve a better understanding of cancer metabolism and the metabolic vulnerabilities of cancers.
Keywords
Metabolic ModelAerobic GlycolysisReaction Diffusion ModelElementary Flux ModeMetabolic Flux Distribution
Background
The hallmarks of cancer [1] highlight major processes and mechanisms required for cancer development. They are divided into core hallmarks, major phenotypes needed to form a cancer, and the enabling hallmark of genomic instability, a molecular mechanism driving the acquisition of the core hallmarks. In the most recent update to this system [2], metabolism is described as an emerging hallmark because metabolism is commonly altered in cancer. The designation "emerging" reflects a sense of ambiguity (neither core nor enabling) concerning the role of metabolism in cancer development. Indeed, the authors note that the metabolic alterations observed in cancer could simply be a consequence of acquisition of the core hallmarks.
The hallmarks describe the aberrations from a normal functioning organism that define cancer as a disease. There is a complementary view based on the physiology of cancer as a
developing tissue
([
3
], Fig.
1
). In this physiological view, the core hallmarks are interpreted as the molecular pathways necessary to establish two essential requirements for the development of a multicellular structure: cell proliferation and tissue remodelling. In the following, we refer to these as
physiological hallmarks
. In a tumour, cell proliferation is required to expand populations of cells with molecular alterations. Tissue remodelling is required to form a consolidated tumour, bringing nutrient supplies, invading nearby tissues and evading the immune system. Both physiological hallmarks require energy and biosynthetic precursors—albeit in possibly different distributions and total amounts—and therefore, metabolism becomes an
enabling hallmark
in this conceptual framework (Fig.
1
). In other words, metabolism is the engine fuelling cell proliferation, tissue development and homeostasis.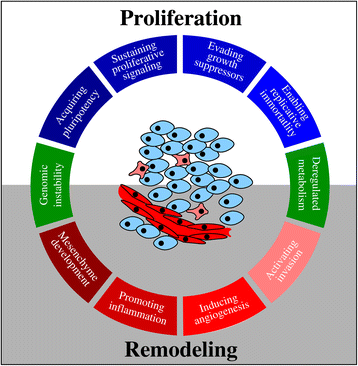 Here, we review some attempts to harness this metabolism centric framework into mathematical descriptions and quantifiable metrics. The mathematical models are divided into five major categories based on the techniques used and their focus on cell or tumour metabolism. First, we discuss genome-wide gene expression analysis, as our major tool to investigate the heterogeneity of metabolism across cancers of different types. Second, we focus on flux balance models that aim to understand cell metabolism at a steady state. This is followed by a third section reviewing kinetic models of selected cell metabolic pathways and the path to genome-scale models with kinetics. Fourth, we go over metabolic models that take into account the spatial dimensions of the cell, revealing metabolic phenomena that could be determined by spatial heterogeneity within the cell. Finally, we discuss different tumour microenvironment models, focusing on how metabolic interactions between cancer and stroma cells impact tumour growth, invasion and metastasis.
Conclusions
We have reviewed five major areas in mathematical models of metabolism, each addressing specific questions at different scales. First, pathway expression analysis is probably the best means to understand the heterogeneity of metabolism across cancers and to create hypotheses about major cancer metabolism subtypes. Second, flux balance models are a flexible framework to investigate the selective advantage of different metabolic pathways depending on the environmental conditions and the metabolic objective. Gene expression and other genomic information can be used to tailor flux balance models to specific cancer metabolic subtypes, allowing us to make predictions of their specific metabolic vulnerabilities. Third, kinetic modelling is required to obtain an accurate model of cell metabolism, and it is essential to understand the relationships between metabolic fluxes and metabolite concentrations. Fourth, there is experimental evidence of patterns of spatial localization of energy metabolism-related enzyme and mitochondria. The relevance of this spatial heterogeneity can only be addressed with reaction diffusion models of cell metabolism. Finally, tumour microenvironment models will help us to understand how metabolic alterations can impact the remodelling of the tumour tissue.
Pathway expression analysis indicates that the tissue of origin is the first dominant signature in the genome-wide and metabolism-specific gene expression profiles of cancers. After correcting for the tissue of origin, cell proliferation and tissue remodelling emerge as secondary major signatures. Gene signatures associated with key metabolic pathways such as glycolysis, the pentose phosphate pathway, oxidative phosphorylation and one-carbon metabolism are correlated to a great extent with the degree of proliferation. In contrast, a gene signature representing autophagy manifests the strongest expression in cancers with a high degree of tissue remodelling. Other parts of the metabolic system, such as fatty acid metabolism, are not generally associated with these major factors. This could be due to high levels of redundancy and feedback obscuring the pathway analysis; however, there could also be other factors associated with the utilization of these metabolic regimes. More detailed studies within individual tissues and tissue classes are needed to gain a better understanding of the variation and dependencies of metabolic pathways.
The evolution of flux balance models is getting closer to the development of genome-scale flux balance models with kinetics. It is an exciting time in this area. The increase in model complexity and burden in parameter estimation is balanced by a significant reduction of the space of possible flux distributions to elementary flux modes. The next step is to develop methods to estimate large sets of kinetic parameters from proteomic, phospho-proteomic and metabolomic profiles. Once these methods have been applied, we will be in a better position to address open questions regarding the selective advantage of metabolic phenotypes of cancer cells.
The investigation of tumour metabolism using tumour microenvironment models is in its early days, as it is the case in the experimental field as well. However, these models are required to understand the selective advantage of metabolic interactions between cancer cells and the stroma. There are reports of both glycolytic cancer cells feeding lactate to the stroma and glycolytic stroma feeding lactate to the cancer cells [87]. It remains to be elucidated in which context these opposite metabolic phenotypes are selected for.
Abbreviations
CORE:

consumption and release
DNAseq:

DNA sequencing
FTHFL:

10-formyl-tetrahydrofolate synthase
GEO:

Gene Expression Omnibus
IGC:

International Genome Consortium
OxPhos:

oxidative phosphorylation
P:

proliferation
R:

remodelling
RNAseq:

RNA sequencing
SOG:

serine, one-carbon and glycine metabolism
TCGA:

The Cancer Genome Atlas
Declarations
Open AccessThis article is distributed under the terms of the Creative Commons Attribution 4.0 International License (http://creativecommons.org/licenses/by/4.0/), which permits unrestricted use, distribution, and reproduction in any medium, provided you give appropriate credit to the original author(s) and the source, provide a link to the Creative Commons license, and indicate if changes were made. The Creative Commons Public Domain Dedication waiver (http://creativecommons.org/publicdomain/zero/1.0/) applies to the data made available in this article, unless otherwise stated.
Authors' Affiliations
(1)
Institute of Cancer Sciences, University of Glasgow, Glasgow, UK
(2)
Cancer Research UK Beatson Institute, Glasgow, UK
Copyright
© Markert and Vazquez. 2015