Endothelial cell metabolism: parallels and divergences with cancer cell metabolism
Cancer & Metabolism
2014
2:19
Received: 2 July 2014
Accepted: 14 August 2014
Published: 15 September 2014
Abstract
The stromal vasculature in tumors is a vital conduit of nutrients and oxygen for cancer cells. To date, the vast majority of studies have focused on unraveling the genetic basis of vessel sprouting (also termed angiogenesis). In contrast to the widely studied changes in cancer cell metabolism, insight in the metabolic regulation of angiogenesis is only just emerging. These studies show that metabolic pathways in endothelial cells (ECs) importantly regulate angiogenesis in conjunction with genetic signals. In this review, we will highlight these emerging insights in EC metabolism and discuss them in perspective of cancer cell metabolism. While it is generally assumed that cancer cells have unique metabolic adaptations, not shared by healthy non-transformed cells, we will discuss parallels and highlight differences between endothelial and cancer cell metabolism and consider possible novel therapeutic opportunities arising from targeting both cancer and endothelial cells.
Keywords
Endothelial cell metabolismCancer cell metabolismAngiogenesisMetabolic pathwaysMetabolismAntiangiogenic therapyCancerGlycolysis
Why target endothelial metabolism?
Cancer cells are metabolically highly active and require large supplies of nutrients. Blood vessels are vital to their survival, as they not only supply oxygen and nutrients but also remove metabolic waste. Tumors excessively stimulate blood vessel growth to meet their metabolic needs. Thus, a better understanding of how blood vessels nourish tumors can offer novel therapeutic opportunities to prevent or reverse tumor progression. In the past decades, antiangiogenic strategies were primarily based on starving the tumor by destroying the vascular supply through inhibition of key pro-angiogenic molecules. Vascular endothelial growth factor (VEGF) is one of the key regulators of angiogenesis and the prime target of antiangiogenic drug development for the treatment of multiple cancers [
1
,
2
]. However, insufficient efficiency and resistance to VEGF-signaling blockade strategies limit their overall success [
2
–
5
], necessitating the development of alternative—mechanistically distinct—strategies. We therefore proposed a new paradigm to inhibit tumor growth or other angiogenic pathologies, one that is based on starving the pathological (tumor) vessels themselves from critical metabolic fuel and energy [
6
,
7
]. We postulated that when quiescent endothelial cells (ECs) switch to rapid vessel sprouting (the so-called angiogenic switch), they adapt their metabolism to generate additional energy and biomass for growth and division. More simply, the angiogenic switch also requires an 'angiogenic metabolic switch.' We further hypothesized that metabolism might be an attractive therapeutic target, since signals from VEGF and other pro-angiogenic factors would centrally converge onto metabolism. In the likely event that cancer cells overcome inhibition of VEGF by upregulating other pro-angiogenic signals to bypass anti-VEGF therapy, metabolism remains the downstream target to increase EC proliferation for angiogenesis (Figure
1
). Hence, targeting EC metabolism might offer unprecedented opportunities for the development of alternative antiangiogenic therapies.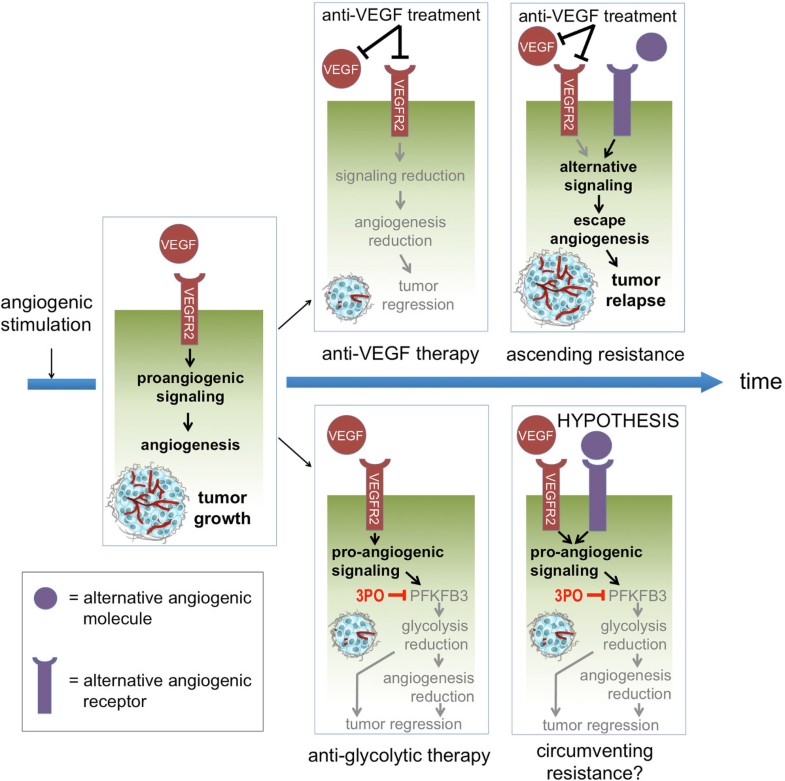 In contrast to the vast literature on angiogenesis (nearly 50,000 papers have been published on VEGF alone), only a handful of papers have been published on how ECs adapt their metabolism when shifting from quiescence to rapid growth during vessel sprouting. Most of those papers studied metabolic adaptations of ECs in vitro without any further insight on the importance of such changes for vessel growth in an intact organism or whether they can be targeted for antiangiogenic therapy. Emerging evidence indicates, however, that EC metabolism is an important determinant of EC phenotypes and behavior and a viable target for antiangiogenesis. Before describing our current understanding of EC metabolic adaptations, we will first provide a brief overview on the fundamentals of vessel sprouting.
Conclusions
The close marriage between cancer and endothelial cells, i.e., cancer cells relying on the vascular supply for metabolic support and growth and ECs relying on cancer cell release of pro-angiogenic signals for metabolism-driven angiogenesis, provides a rationale for targeting both cellular compartments when aiming to block tumor growth. The metabolic similarities characterized so far between both cell types suggest that hitting a common metabolic pathway (like glycolysis) may induce these dual benefits. Furthermore, the differences between endothelial and cancer cell metabolism provide alternative routes to specifically aim at one or the other alone or together. Future success in designing novel antimetabolism therapies requires monitoring isotope labeling through metabolic pathways in an unbiased manner and quantitatively identifying fluxes from the data. In addition, recent reports that metabolism of cancer cells in the culture dish is different, even opposite, to what has been measured in the intact tumor in vivo [59, 188], necessitates the challenging characterization of EC metabolism in (tumor) vessels as well. It has been postulated that unique cancer cell-specific metabolic pathways should be preferentially targeted to block cancer growth in order to avoid toxicity on healthy tissues. However, recent findings indicate that pharmacologically blocking a central metabolic pathway like glycolysis can inhibit pathological angiogenesis without inducing systemic effects, as long as glycolysis is only partially and transiently reduced and not completely and permanently blocked [7, 60]. These studies illustrate that not only the specific metabolic target is important, but the administration protocols and drug dynamics are critical as well. Another outstanding question is whether targeting EC metabolism should aim to prune tumor vessels with a risk of aggravating tumor hypoxia, increasing invasiveness and metastasis, or rather try to normalize tumor vessels to reduce metastasis and to improve chemotherapy. In either case, concomitantly understanding the dynamics of endothelial and cancer cell metabolism will provide avenues for clinical strategies that more specifically curb excessive cancer growth, while maintaining necessary vascular integrity.
Declarations
Acknowledgements
We apologize for not being able to cite the work of all other studies related to this topic because of space restrictions. DV is a postdoctoral fellow supported by the VIB. SM is a Ph.D. student supported by an Emmanuel Vanderschueren fellowship from the Flemish Association against Cancer (VLK). PS is a postdoctoral fellow supported by the Belgian American Educational Foundation (BAEF). The work of PC is supported by a Federal Government Belgium grant (IUAP P7/03), long-term structural Methusalem funding by the Flemish Government, grants from the FWO, the Foundation of Leducq Transatlantic Network (ARTEMIS), Foundation against cancer, an European Research Council (ERC) Advanced Research Grant (EU-ERC269073), and the AXA Research Fund.
Authors' Affiliations
(1)
Laboratory of Angiogenesis and Neurovascular link, Vesalius Research Center, Department of Oncology, University of Leuven, Belgium
(2)
Laboratory of Angiogenesis and Neurovascular link, Vesalius Research Center, VIB K.U.Leuven, Campus Gasthuisberg, Belgium
Copyright
© Verdegem et al.; licensee BioMed Central Ltd. 2014
This article is published under license to BioMed Central Ltd. This is an Open Access article distributed under the terms of the Creative Commons Attribution License (http://creativecommons.org/licenses/by/4.0), which permits unrestricted use, distribution, and reproduction in any medium, provided the original work is properly credited. The Creative Commons Public Domain Dedication waiver (http://creativecommons.org/publicdomain/zero/1.0/) applies to the data made available in this article, unless otherwise stated.