Acidosis induces reprogramming of cellular metabolism to mitigate oxidative stress
Cancer & Metabolism
2013
1:23
Received: 31 July 2013
Accepted: 14 November 2013
Published: 23 December 2013
Abstract
Background
A variety of oncogenic and environmental factors alter tumor metabolism to serve the distinct cellular biosynthetic and bioenergetic needs present during oncogenesis. Extracellular acidosis is a common microenvironmental stress in solid tumors, but little is known about its metabolic influence, particularly when present in the absence of hypoxia. In order to characterize the extent of tumor cell metabolic adaptations to acidosis, we employed stable isotope tracers to examine how acidosis impacts glucose, glutamine, and palmitate metabolism in breast cancer cells exposed to extracellular acidosis.
Results
Acidosis increased both glutaminolysis and fatty acid β-oxidation, which contribute metabolic intermediates to drive the tricarboxylic acid cycle (TCA cycle) and ATP generation. Acidosis also led to a decoupling of glutaminolysis and novel glutathione (GSH) synthesis by repressing GCLC/GCLM expression. We further found that acidosis redirects glucose away from lactate production and towards the oxidative branch of the pentose phosphate pathway (PPP). These changes all serve to increase nicotinamide adenine dinucleotide phosphate (NADPH) production and counter the increase in reactive oxygen species (ROS) present under acidosis. The reduced novel GSH synthesis under acidosis may explain the increased demand for NADPH to recycle existing pools of GSH. Interestingly, acidosis also disconnected novel ribose synthesis from the oxidative PPP, seemingly to reroute PPP metabolites to the TCA cycle. Finally, we found that acidosis activates p53, which contributes to both the enhanced PPP and increased glutaminolysis, at least in part, through the induction of G6PD and GLS2 genes.
Conclusions
Acidosis alters the cellular metabolism of several major metabolites, which induces a significant degree of metabolic inflexibility. Cells exposed to acidosis largely rely upon mitochondrial metabolism for energy generation to the extent that metabolic intermediates are redirected away from several other critical metabolic processes, including ribose and glutathione synthesis. These alterations lead to both a decrease in cellular proliferation and increased sensitivity to ROS. Collectively, these data reveal a role for p53 in cellular metabolic reprogramming under acidosis, in order to permit increased bioenergetic capacity and ROS neutralization. Understanding the metabolic adaptations that cancer cells make under acidosis may present opportunities to generate anti-tumor therapeutic agents that are more tumor-specific.
Keywords
Pentose Phosphate PathwayLactic AcidosisOxidative Pentose Phosphate PathwayExtracellular AcidosisOxidative Branch
Background
Tumor metabolism is essential to meet the various metabolic demands associated with the proliferation and expansion of tumor cells. These needs fall into several categories, including: (i) bioenergetics (ATP and other energy equivalents required for energy homeostasis); (ii) biosynthetic (biochemical intermediates required for the synthesis of macromolecules for cell proliferation such as fatty acids and nucleotides); and (iii) reductive capacity (for example, nicotinamide adenine dinucleotide phosphate (NADPH)) for a variety of biochemical reactions to neutralize increased reactive oxidative stress (ROS). Perhaps the most prominent example of altered tumor metabolism is the increased glucose utilization and excessive production of lactic acid in many solid tumors, termed the 'Warburg' effect[1]. The continuous expansion of tumor cells beyond the capacity of local vascular perfusion leads to a variety of environmental alterations, such as oxygen depletion (hypoxia), glucose deprivation, high lactate levels (lactosis), and extracellular acidosis[2–8]. These microenvironmental stresses exert important influences on gene expression and metabolic phenotypes. For example, hypoxia induces expression of genes involved in the transport and metabolism of glucose[9, 10] while restricting the entry of metabolites into the mitochondria by activating pyruvate dehydrogenase kinase (PDK)[11, 12]. Hypoxia also renders cells reliant on the reductive carboxylation of glutamine-derived α-ketoglutarate (α-KG) for de novo lipogenesis[13, 14]. Compared with hypoxia, relatively little is known about the metabolic adaptations in response to acidosis. Previous studies have suggested that acidosis can influence hypoxia responses, inhibit glycolysis and trigger autophagy[5, 6, 15, 16]. In renal cells, metabolic acidosis increases glutamine and glutamate metabolism[17, 18]. However, many details about the cellular metabolic reprogramming under acidosis remain unknown.
NADPH plays a crucial role in the defense against ROS and reductive biosynthetic reactions (for example, lipogenesis) to fuel macromolecular biosynthesis. One key source of NADPH is the pentose phosphate pathway (PPP), by which glycolysis intermediates (for example, glucose-6-phosphate (G6P)) are used to generate NADPH and ribose-5-phophsate (R5P). The PPP possesses an oxidative and non-oxidative branch, both of which have been demonstrated to be activated or overexpressed in human cancer. In the oxidative branch, glucose-6-phosphate dehydrogenase (G6PD or G6PDH) is the first and rate-limiting enzyme, non-reversibly oxidizing G6P to 6-P-gluconolactone, a reaction which generates NADPH. G6PD deficiency in humans impairs the generation of NADPH, leading to significant red cell lysis and anemia due to oxidative stress. The non-oxidative branch of the PPP is mediated by the reversible reactions of several transketolases (TKT, TKTL1, TKTL2) and transaldolase, which generate the sugar moiety of the nucleotide precursor R5P for nucleotide synthesis during proliferation. Since the non-oxidative PPP is reversible, any excess amount of pentose phosphate can be converted back to glycolysis when bioenergetic (ATP) requirements exceed biosynthetic need (for example, R5P). Beside glucose, both glutamine and several fatty acids (via acetyl-CoA) can function as substrates for various bioenergetic and biosynthetic processes. Glutamine in particular serves as a substrate for a variety of cellular processes, including citrate synthesis and lipogenesis[13, 14], de novo synthesis of glutathione, and as carbon source for the canonical tricarboxylic acid cycle (TCA cycle) via α-KG.
Recently, various mass-spectrometry-based metabolomics techniques have been used to measure the steady-state levels of metabolites and quantitate metabolic flux[19, 20]. These approaches have identified metabolites associated with tumor progression[19–21] and the process of reductive carboxylation of glutamine to citrate[14]. No similar approach has yet been applied to define the effect of acidosis. Here, we applied stable-isotope tracer measurements to define how acidosis affects cellular metabolism. Together with measurements of intracellular amino acids and transcriptional profiling of cancer cells under acidosis[6], these data reveal extensive metabolic reprogramming and critical metabolic adaptations that offer the opportunity to target cancer cells selectively under acidosis.
Methods
Cell culture and modeling various microenvironmental stresses
MCF-7, ZR-75-1, T47D, MDA-MB-231 and MDA-MB-157 cells were cultured in RPMI with 2.0 g/l glucose, 10% fetal bovine serum, 1 × antibiotics (penicillin, 10,000 UI/ml; streptomycin, 10,000 UI/ml) and 25 mM 2-[4-(2-hydroxyethyl)piperazin-1-yl]ethanesulfonic acid (HEPES). Cell lines, obtained from and initially validated by the Duke Cell Culture Facility (Durham, NC, USA), were maintained for fewer than 6 months and validated by microscopy every 1 to 2 days. Lactosis was generated via addition of sodium lactate (Sigma), while acidosis was generated via media pH adjustment to pH 6.7 by HCl. For the α-KG rescue experiments, media was supplemented with 700 μM dimethyl α-KG (Sigma-Aldrich (St. Louis, MO, USA). The paired shp53 and shControl MCF-7 cells were as previously described[22]. Control or gene-specific small interfering (si)RNAs (Additional file1: Table S1; Ambion/Life Technologies (Grand Island, NY, USA)) were transfected using lipofectamine 2000 in OPTIMEM according to the manufacturer's instructions. The cDNA expression constructs for nuclear factor erythroid 2-related factor 2 (NRF2) were purchased from Origene (Rockville, Md, USA) and described previously[23], while cDNA expression constructs for GLS2 were a generous gift of Dr Zhaohui Feng from the Robert Wood Johnson Medical School (New Brunswick, NJ, USA)[24]. The efficiency of silencing was determined by western blots.
Stable isotope labeling experiments
A total of 2 × 106 MCF-7 cells were plated in 10 cm dishes in quadruplicate. After 24 h, the media was changed to media containing either 2 g/l glucose (50% (1 g/l) (1,2-13C2)d-glucose and 50% (1 g/l) unlabeled glucose), 2 mM (100% (uniformly-labeled U-13C)) glutamine or 10 μM (U-13C) palmitate. Cells were exposed to control or acidosis (pH 6.7) media for 24 h. Culture medium (for CO2, glucose, glutamate, and lactate isotopomer measurements) and cell pellets (for palmitate and ribose measurements) were collected after cells were washed twice in 1 × PBS, harvested via cell scraping on ice, and specific extractions were performed as described below and as previously reported[25].
The procedures for extraction and derivatization of glucose, cholesterol, ribose, fatty acids, lactate, CO2 and glutamate have been previously published[26, 27]. Fatty acids were extracted by saponification of Trizol (500 μl, Invitrogen, Carlsbad, CA, USA) cell extract, after removal of the upper glycogen-containing and RNA-containing supernatant, using 30% KOH and 70% ethanol (300 μl each) for 2 h. Fatty acids were extracted by further acidification using 6 N hydrochloric acid to a pH below 2.0 and repeated vortexing with 5 ml petroleum ether. Fatty acids (palmitate) were monitored at m/z 270, using canola oil as positive control. The enrichment of acetyl units in media and cell pellet palmitate in response to acidosis was determined using the mass isotopomer distribution analysis (MIDA) approach. Acetyl-CoA and fractions of new synthesis were calculated from the M4/M2 ratio using the formula M4/M2 = (n - 1)/2•(p/q), where n is the number of acetyl units, p is the 13C labeled precursor acetate fraction and q is the 12C-labeled natural acetate fraction (p + q = 1)[28].
For glucose extraction, 500 μl each of 0.3 N barium hydroxide and 0.3 N zinc sulfate were added to 100 μl media. Samples were vortexed and centrifuged for 15 minutes at 10,000 rpm. The supernatant was then dried on air over heat and were derivatized by adding 150 μl hydroxylamine solution and incubated for 2 h at 100°C followed by addition of 100 μl of acetic anhydride. Samples were incubated at 100°C for 1 h and dried under nitrogen over heat as previously described in the fatty acids derivatization section. Ethyl acetate (200 μl) was added. Peak glucose ion was detected at the m/z 187 cluster.
Lactate was extracted from media through acidification of 100 μl media with HCl and addition of 1 ml of ethyl acetate. The resulting aqueous layer was dried under nitrogen over heat and derivatized using lactate standard solution as positive control. A total of 200 μl of 2,2-dimethoxypropane was added followed by 50 μl of 0.5 N methanolic HCl. Samples were incubated at 75°C for 1 h. Then, 60 μl of n-propylamine was added and samples were heated for 100°C for 1 h followed by addition of 200 μl dichloromethane. Heptafluorobutyric anhydride (15 μl) was added followed by 150 μl of dichloromethane and samples were subjected to gas chromatography/mass spectrometry (GC/MS). M1 and M2 lactate were differentiated to distinguish the pentose phosphate flux from anaerobic glycolysis[25, 28] and the ion cluster at m/z 328 was examined.
Media glutamate was converted into its n-trifluoroacteyl-n-butyl derivative and monitored at ion clusters at m/z152 and m/z198. 13CO2 Assay for CO2 was generated by adding equal volumes (50 μl) of 0.1 N NaHCO3 and 1 N HCl to spent media and 12CO2/13CO2 ion currents were monitored and calculated from the m/z44 and m/z45 peak intensities, respectively, using 13CO2/12CO2 of in house cell culture cabinet's CO2 tank as the reference ratio for 13CO2 Δ calculations. This ratio of 13CO2/12CO2 was determined with gas chromatography-mass spectrometry (Agilent, Palo Alto, CA, USA, 5975 MS and 6890 N (network) GC system for volatile (gas) isotopomer data acquisitions,) as previously described[29].
Isolation of RNA ribose was performed as previously reported[30]. Briefly, RNA ribose was first isolated by acid hydrolysis of cellular RNA after Trizol purification from cell pellets. Total RNA abundance was then quantified by spectrophotometric determination in quadruplicate. Cellular ribose was derivatized to its aldonitrile acetate form using hydroxylamine, resuspended in pyridine with acetic anhydride (Supelco/Sigma-Aldrich, St. Louis, MO, USA) before mass spectral analyses. The ion cluster was measured around m/z 256 (carbons 1 to 5 of ribose; chemical ionization (total ribose)), m/z 217 (carbons 3 to 5 of ribose (non-oxidative branch ribose)), and m/z 242 (carbons 1 to 4 of ribose; electron impact ionization (oxidative branch ribose)) to determine molar enrichment and the positional distribution of 13C in ribose.
An Agilent (Palo Alto, CA, USA) 5975 Inert XL Mass Selective Detector connected to HP6890N network gas chromatograph was used to detect mass spectral data under the following settings: GC inlet 230°C, MS source 230°C, MS quad 150°C[27]. For media CO2, glucose, lactate and glutamate analyses, an HP-5 column (30 m length × 250 μm diameter × 0.25 μm thickness) was used while a DB-23 column (60 m length, 250 μm diameter × 0.15 μm thickness) was used for fatty acid measurement.
Statistics for mass spectral analyses were obtained by consecutive and independent injections of 1 μl sample using an autosampler with optimal split ratios for column loading (106 > abundance > 104 abundance). Data was accepted if the standard sample deviation was below 10% of the normalized peak intensity (integrated peak area of ion currents; 100%) among repeated injections. Data download was performed in triplicate manual peak integrations using modified (background subtracted) spectra under the overlapping isotopomer peaks of the total ion chromatogram (TIC) window displayed by the Chemstation (Agilent, Palo Alto, CA, USA) software. A two-tailed independent sample t test was used to test for significance (*P <0.05, **P <0.01) between control and treated groups.
Rapid system-wide association study (SWAS) evaluation of MCF-7 cells was performed by the color assisted visual isotopolome data matrix screening tool[26], to diagnose phenotypic differences and response to acidosis. The isotope labeled fractions, after subtracting natural 13C enrichment, of all metabolic products from the 13C tracer were found in total ion currents, obtained by chromatography separation in the selected ion monitoring (SIM) mode. These SIMs included all isotope labeled products with the range that covers all possible single and multiple substitutions, based on the number of carbons making up the reported biomolecules and their fragment. The sum of all labeled isoforms were then generated by the number of 13C substitutions, expressed as labeled fraction, of which positional 13C isoforms were normalized to 100% and expressed as fractions (Σμ) of the 13C labeled portion of the molecule. The sum of all labeled isoforms was also weighed by the number of 13C position, expressed as 13C content (Σμν). This number is also known as total activity (isotope accumulation) when radiating isotopes are used.
Amino-acid profiling
The measurement of intracellular amino acids was performed using stable isotope dilution techniques, flow injection tandem mass spectrometry and sample preparation methods described previously[31, 32]. Quantification was facilitated by the use of stable isotope internal standards as published[32].
RNA isolation and real-time PCR analysis
RNA was extracted using the miRVANA kit (Ambion). A total of 1 μg of total RNA was reverse transcribed by SuperScript II (Invitrogen) for real-time PCR with Power SYBRGreen Mix (Applied Biosystems/Life Technologies (Grand Island, NY, USA)) and primers for indicated genes (Additional file1: Table S1).
Cell viability assays
Cell viability was primarily evaluated by direct cell counting (trypan blue exclusion), propidium iodide (PI) and 3-[4,5-dimethylthiazol-2-yl]-2,5 diphenyl tetrazolium bromide (MTT) assays (Promega (Madison, WI, USA)). For direct cell counting, 48 h after siRNA transfection, stresses were applied (T = 0) and cells were counted at the indicated timepoints, with two separate counts averaged after trypan blue exclusion. For PI, cells were washed twice with 1 × PBS, frozen at -80°C, thawed then treated with 1:10 PI (5 μg/μl) for 30 minutes then absorbance measured at 570 nm. For MTT assays, MTT (5 μg/ml) was added to cell media at 1:10 for 3 h. Afterwards, media was removed and cells resuspended in dimethylsulfoxide (DMSO), then absorbance was measured at 570 nm. The impact of lactic acidosis and acidosis on viability are normalized against corresponding control samples for each time point.
NADP+/NADPH, glutathione (GSH)/glutathione disulfide (GSSG), and total GSH measurements
NADP+/NADPH measurements were performed using the NADP+/NADPH and/or GSSG/GSH ratiometric kit (AAT Bioquest (Sunnyvale, CA, USA)) according to suggested protocols. Total GSH was measured using the GSH-Glo kit (Promega (Madison, WI, USA)) according to suggested protocols. Cells were plated and siRNA knockdowns were performed as stated. After 24 h of exposure to neutral (pH 7.4) or acidic (pH 6.7) conditions, cells were lysed and stored at -80°C. Cell extracts were treated with respective NADP+/NADPH, GSH/GSSG, or GSH extraction buffers. The fluorescence was measured at 530/590 nm (for NADPH) or 490/530 (for GSSG), while total GSH was measured by luminescence, and standardized using known GSH concentrations.
Glutamine uptake
MCF7 cells were plated in 6-well/12-well plates at the density of 800,000/200,000 cells per well. Once cells reached more than 75% confluence, they were washed with 1× PBS twice and then treated under the respective conditions for the indicated time. Cells were then washed with 37°C Krebs-Ringer-HEPES (KRH) buffer twice, followed by the addition of 500 μl/200 μl KRH buffer containing 0.5 μCi/0.2 μCi 14C-glutamine (Perkin Elmer (Waltham, MA, USA)) for 1 h at 37°C, and washed three times with 1 ml/400 μl of ice-cold KRH buffer containing 20 mM glutamine to quench the glutamine uptake. Finally, cells were lysed with 1 ml/400 μl radioimmunoprecipitationassay (RIPA) buffer and the lysates were subjected to liquid scintillation counting, and normalized by protein concentrations, measured with Bradford assay.
G6PD enzyme activity
G6PD enzyme activity based on resazurin was adapted from[33]. Cells were plated for 24 h then lysed using triton-X in tandem with G6PD reaction buffer. G6PD activity was measured via fluorescence at 470/530 nm, blanked against PBS only and normalized against control conditions.
ROS measurements
Cellular ROS were measured by normalized luminescence using the Oxiselect ROS detection assay (Cell Biolabs (San Diego, CA, USA)). Cells were plated overnight, incubated for 30 minutes at 37°C with the 2',7'-dichlorodihydrofluorescin (DCFH) dye and then lysed to measure luminescence at 490/530 nm against a DCF standard curve.
Western blot analysis
MCF7 cells were washed twice with cold 1 × PBS after 24 h of stress and lysed by RIPA buffer. Then, 15 μg of lysates were separated in 10% gels and probed by the indicated antibodies for p53, G6PD, TKT (Cell Signaling (Danvers, MA, USA)), GS (Abnova (Taipei, Taiwan)) and GLS2 and β-tubulin (Cell Signaling (Danvers, MA, USA)). Densitometry was generated using ImageJ (http://rsbweb.nih.gov/ij/).
Measurements of glutamine, glutamate and ATP
The intracellular glutamine and glutamate levels in cell lysates were measured using the glutamine/glutamate detection kit (Sigma) and normalized by protein contents. For the measurements of media glutamine, media was immediately removed before washing cells and stored overnight at -80°C, then measured as above. The culture media used typically lack glutamate. For ATP measurements, cells were lysed with 100 μl assay reagent, incubated for 5 minutes in the dark and ATP measured using the one-step ATP-lite kit (Perkin-Elmer (Waltham, MA, USA)), then normalized to protein content.
Statistical analyses
The effects of each stress on gene expression and metabolites (on a log2 scale) were normalized to the control through zero transformation by subtracting the expression levels of the control samples from stressed samples. Error bars for the stable-isotope tracer figures are standard deviations from the mean. For all other graphs, samples sizes are indicated in the figure legends; P values were derived by two-tailed t test except for cell growth assays, which were calculated by two-way ANOVA. These were followed, in the event of a significantly different interaction term (between siControl + acidosis versus siRNA + acidosis), by a pairwise comparison using a two-tailed t test. P values are indicated (*P ≤0.05, **P ≤0.001, and ***P ≤0.0001) and error bars are standard errors of the mean.
Discussion
Relatively little is known about the cellular metabolic response to acidosis found in most solid tumors. Here, we employ isotope tracer experiments to make several important observations on how acidosis affects glucose, glutamine and palmitate metabolism. Besides confirming previous observations of reduced glycolysis and lactate production[6, 7], these experiments revealed that extracellular acidosis increased oxidative PPP (Figures 1 and4), glutaminolysis (Figure 2) and β-oxidation of fatty acids (Additional file2: Figure S1). Interestingly, acidosis also abolished most of the conversion of glucose to ribose for ribonucleotide synthesis via the PPP. Since the decrease in ribose conversion (approximately 90%) far exceeds the reduction in proliferation (approximately 30% in 3 days), there is possibly enzymatic inhibition or reversed metabolic flow in the non-oxidative PPP under acidosis. Such increased oxidative PPP and reduced ribose production under acidosis is reminiscent of the metabolic patterns of the quiescent fibroblasts[42]. These metabolic adaptions allow cells to cope with the demand for bioenergetic needs (ATP) and reducing equivalents (NADPH) necessary for survival, while reducing the biosynthetic requirements (that is, ribonucleotides) of cellular proliferation. These changes are also consistent with the starvation response[6] and increased autophagy[16, 43] under acidosis. The diversion of glucose to the PPP may further increase the need for TCA metabolites, which can be supplied from the increased glutaminolysis and fatty acid β-oxidation. A similar increased need for NADPH and glutaminolysis has been observed for other metabolic stresses, such as hypoxia[44], glucose deprivation[45] and matrix detachment[46]. Therefore, these shared metabolic adaptations may underlie common mechanisms of cellular responses to various tumor environmental stresses within solid tumors.
We also identified a critical role for p53 in coordinating various metabolic responses to acidosis. The increase in mitochondria function (for ATP generation) and the oxidative branch of the PPP (for NADPH to neutralize ROS) are both known functions of p53 in (1) promoting catabolic pathways to maintain energy production during nutrient starvation; (2) ameliorating oxidative stress; and (3) inhibiting cell growth and cell cycle progression. Acidosis also reduces glycolysis[5, 6], which is another prominent metabolic feature downstream of p53 through the induction of TP53-inducible glycolysis and apoptosis regulator (TIGAR)[47] and downregulation of glucose transporters[48] and phosphoglycerate mutase[49]. The induction of GLS2 and increased glutaminolysis under acidosis, while novel, is also consistent with the function of p53 to promote ATP production and antioxidant function[24, 50]. p53 has also been shown to downregulate NRF-2-mediated transcription[51], suggesting that the decrease in GSH synthesis under acidosis, due to downregulation of GCLC and GCLM, is also consistent with increased p53 activity under lactic acidosis. Therefore, the response to extracellular acidosis may represent a novel tumor suppressor function of p53. Furthermore, the dependence of the acidosis response on p53 may explain the higher degree of lactic acidosis transcriptional responses in breast tumors with wild-type p53[5, 8] even though these tumors, when compared tumors with mutant p53, have lower levels of lactic acidosis, glycolysis and hypoxia[8].
G6PD encodes the first and rate-limiting enzyme of the oxidative PPP. Therefore, the increase in both G6PD expression and activity under acidosis (Figure 5) is important for the enhanced oxidative PPP activities. Several mechanisms are likely to account for the increase in G6PD activity under acidosis by p53. We noted a p53-dependent transcriptional induction of G6PD, consistent with a previous report of G6PD as transcriptional target of p53[52]. The increased NADP+/NADPH under acidosis may also activate G6PD allosterically[45]. Cytoplasmic p53 has been reported to inhibit G6PD protein directly through protein-protein interaction[40], so it is possible that acidosis may reduce the interaction by lowering cytoplasmic pools of p53 or pH-dependent conformational changes. While the contribution of individual factors remains to be determined, the induction of G6PD is likely an important adaptation under acidosis when cells become susceptible to genetic and chemical inhibition of G6PD.
While this study provides many new insights of cellular metabolism under acidosis, many aspects of the metabolic adaptations of cells to acidosis still remain unknown. For example, we still do not understand how acidosis enhances the oxidative PPP while abolishing ribonucleotide production via the non-oxidative PPP. Such dissociation between these two branches of the PPP has been previously described for Ras-driven pancreatic cancers[53] and may save the cells from wasting glucose metabolites in nucleotide biosynthesis given the lack of proliferation under acidosis. However, we also observe an increase in the flow of TCA cycle metabolites, via the non-oxidative branch of the TCA cycle, into ribose labeling. Thus, it is clear that some of the TCA cycle components are being used for non-bioenergetic purposes under acidosis, though the mechanism by which TCA metabolites, potentially including increased export of citrate and malate, enter the cytosol remains unclear. However, glutamine and palmitate contribute only a low level of ribose synthesis, which would appear to be insufficient to compensate for the loss of glucose labeling of ribose. This leads us to conclude that a combination of metabolites, potentially including glycerol from the fetal bovine serum and potentially circulating triglycerides in humans, not just glutamine or palmitate, contribute to the labeling of ribose under extracellular acidosis.
Furthermore, while we investigated the transcriptional response of G6PD and GLS2, there are likely to be additional regulators of the acidosis response, at either the transcriptional, translational or post-translational level. For example, p53-responsive TIGAR may also play a role in the shunting of glucose to PPP for NADPH[39] under acidosis. The roles of additional regulators and metabolic flow will be studied in detail in the future to gain a more complete understanding of the metabolic response to acidosis.
The
in vivo
relevance of many of our observations on the regulation of metabolic reprogramming has been independently confirmed in other systems and disease settings. For example, metabolic acidosis is noted to increase glutaminolysis in intact nephron and rodent models, possibly mediated by increased glutaminase (
GLS
) mRNA stability[
54
]. Previous studies have noted the regulation of liver-type glutaminase (GLS2), glutamine metabolism and antioxidative capacity by p53 in breast cancers[
24
,
50
]. The strong positive correlation of G6PD expression, the acidosis transcriptional response and p53 status further support the role of p53 in inducing G6PD and other cellular acidosis responses (Figure
7
). It is also worth noting that the G6PD locus is locally amplified in breast and other tumors in Tumorscape[
55
]. Such hardwired DNA amplification may confer a robust PPP and a selective advantage within the tumor microenvironmental stresses.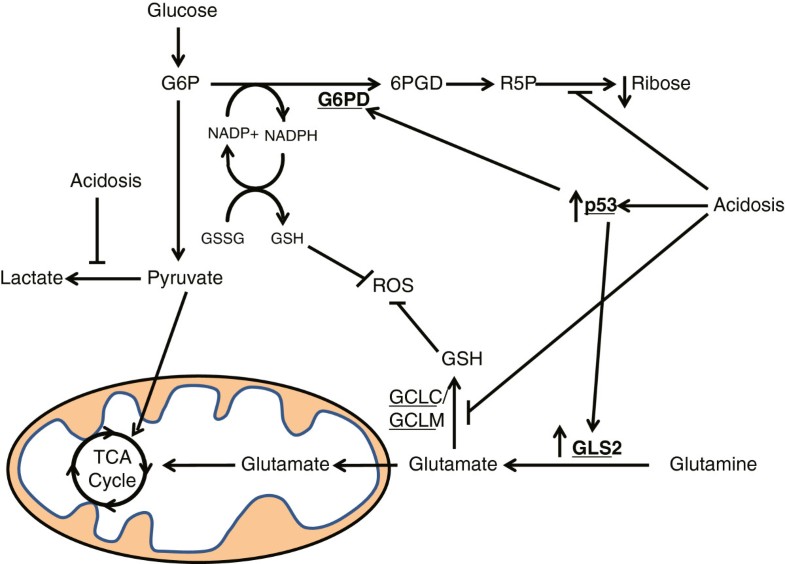 Tumor acidosis is often associated with metastasis and resistance to cancer therapeutics in patients[6, 7]. Interestingly, the two major changes we observed here in cancer cells under acidosis, elevated levels of G6PD and increased PPP, both of which show the importance of the regeneration of reducing equivalents to cancer proliferation, are also both also associated with brain metastasis[56, 57] and drug resistance[58, 59]. Additionally, extracellular acidosis forces breast cancer cells to engage in a series of dysregulated metabolic adaptations in order to adapt to the changing extracellular environment. Since increased oxidative stress, as occurs in response to acidosis, is associated with metastasis and drug resistance, it seems logical for cells to reprogram their metabolism to cope with this type of increased stress. The observed metabolic changes under acidosis could also reflect a novel tumor suppressive role for p53; while p53 promotes TCA cycle metabolism, it also induces the PPP to mitigate the increased ROS and DNA instability from TCA metabolism, which ultimately impedes tumor progression. Together, the data presented here provide several novel insights into both the short-term metabolic adaptations of cancer cells under acidosis, as well as the long-term potential impact of acidosis to exert selective pressures upon the somatic mutations within human tumors.
Conclusions
Taken together, our metabolomic analysis of the acidosis responses indicates a significant reprogramming of cellular metabolism toward the oxidative PPP and glutaminolysis through the induction of G6PD and GLS2, respectively (Figure 7). The increase in the NADPH from the oxidative PPP appears to be required to help cells to better tolerate the increased ROS stress and reduced novel GSH synthesis under acidosis. Furthermore, p53 plays an important role in coordinating the metabolic response to acidosis by inducing G6PD (redirection to the PPP) and GLS2 (increased glutaminolysis). Such metabolic adaptations under acidosis may render cancer cells susceptible to inhibition of glutamate metabolism and/or NADPH generation.
Abbreviations
6-AN:

6-aminonicotinamide
AOA:

amino-oxyacetate
G6PD:

glucose-6-phosphate dehydrogenase
GLS2:

glutaminase 2
GSH:

glutathione
LA:

lactic acidosis
NADPH:

nicotinamide adenine dinucleotide phosphate
PCR:

polymerase chain reaction
PPP:

pentose phosphate pathway
ROS:

reactive oxygen species
TCA:

tricarboxylic acid cycle
TKT1:

transketolase 1.
Declarations
Acknowledgements
We recognize research support from the NIH (NCI R01CA125618, R01CA106520-09) and USAMRMC (W81XWH-12-1-0148) to J-TC. ONCOisobolome interpretations and central processing unit (CPU) time for GC-MS data with functional markers of 13C-tracer to products were supported by the Hirshberg Foundation for Pancreatic Cancer Research, the NCI (P01-AT003960-01A1) and the UCLA Clinical & Translational Science Institute ( UL1TR000124) to LGB. We want to thank Dr Jeff Marks for cells, reagents and also appreciate the helpful discussions with members of our laboratory. The funding sources had no role in the study design; in the collection, analysis, and interpretation of data; in the writing of the manuscript; or in the decision to submit the manuscript for publication.
Authors' Affiliations
(1)
Institute for Genome Sciences & Policy, Durham, USA
(2)
Department of Molecular Genetics & Microbiology, Durham, USA
(3)
Department of Anatomy and Cell Biology, School of Medicine, National Taiwan University, Taipei
(4)
Sarah W Stedman Nutrition and Metabolism Center, Durham, USA
(5)
Duke Institute of Physiology, Durham, USA
(6)
Department of Pediatrics, University of California Los Angeles School of Medicine, Los Angeles, USA
(7)
LABIOMED & SiDMAP, LLC, Torrance, USA
(8)
Department of Pharmacology and Cancer Biology, Duke University, Durham, USA
Copyright
© LaMonte et al.; licensee BioMed Central Ltd. 2013
This article is published under license to BioMed Central Ltd. This is an open access article distributed under the terms of the Creative Commons Attribution License (http://creativecommons.org/licenses/by/2.0), which permits unrestricted use, distribution, and reproduction in any medium, provided the original work is properly cited.