Mitochondria as biosynthetic factories for cancer proliferation
Cancer & Metabolism
2015
3:1
Received: 29 September 2014
Accepted: 2 January 2015
Published: 25 January 2015
Abstract
Unchecked growth and proliferation is a hallmark of cancer, and numerous oncogenic mutations reprogram cellular metabolism to fuel these processes. As a central metabolic organelle, mitochondria execute critical biochemical functions for the synthesis of fundamental cellular components, including fatty acids, amino acids, and nucleotides. Despite the extensive interest in the glycolytic phenotype of many cancer cells, tumors contain fully functional mitochondria that support proliferation and survival. Furthermore, tumor cells commonly increase flux through one or more mitochondrial pathways, and pharmacological inhibition of mitochondrial metabolism is emerging as a potential therapeutic strategy in some cancers. Here, we review the biosynthetic roles of mitochondrial metabolism in tumors and highlight specific cancers where these processes are activated.
Keywords
CancerMitochondriaBiosynthesisAmino acidsNucleotidesAnaplerosisLipogenesis
Review
Recent characterizations of metabolic enzymes as tumor suppressors and oncogene-driven metabolic reprogramming have reinvigorated interest in cancer metabolism. Although therapies targeting metabolic processes have long been a staple in cancer treatment (e.g. inhibition of folate metabolism via methotrexate), the focused therapeutic potential surrounding these findings have generated a renewed appreciation for Otto Warburg's work almost a century ago. Warburg observed that tumor cells ferment much of the glucose taken up during growth to lactate, thus using glycolysis as a major means of adenosine triphosphate (ATP) regeneration [
1
]. However, the observation of decreased respiration in cancer cells and idea that "
the respiration of all cancer cells is damaged
" belies the critical role of mitochondria in biosynthesis and cell survival [
1
]. On the contrary, functional mitochondria are present in all proliferative cells within our body (including all tumors), as they are responsible for converting the diverse nutrients available to cells into the fundamental building blocks required for cell growth. These organelles execute numerous functions in cancer cells to promote tumor growth and survival in response to stress. Here, we outline the critical biosynthetic functions served by mitochondria within tumors (Figure
1
). Although many of these functions are similarly important in normal, proliferating cells, we have attempted to highlight potential points where mitochondrial metabolism may be therapeutically targeted to slow cancer growth. This review is organized by specific metabolic pathways or processes (i.e., glucose metabolism and lipogenesis, amino acid metabolism, and nucleotide biosynthesis). Tumors or cancer cell types where enzymes in each pathway have been specifically observed to by dysregulated are described within the text and summarized in Table
1
.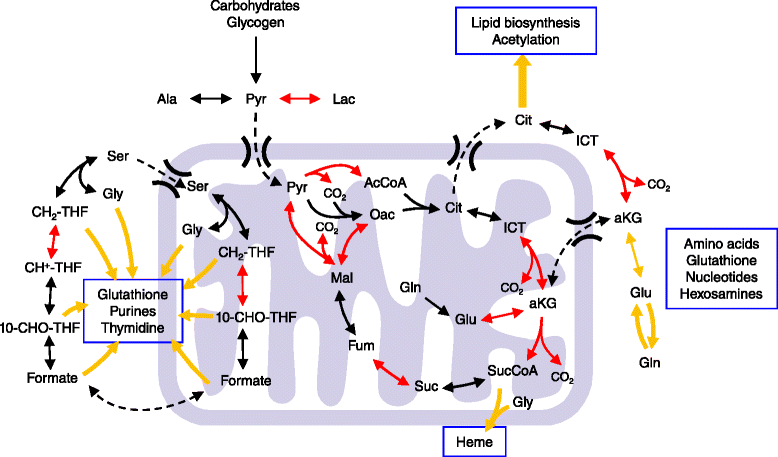 Table 1
Overview of mitochondrial biosynthetic enzymes important in cancer
Cancer type (according to primary site)

Blood, bone, or lymph

Brain

Breast

Colon

Kidney

Liver

Lung

Stomach

Ovarian

Pancreas

Prostate

Skin

TCA cycle, anaplerosis, and AcCoA metabolism

Pyruvate carboxylase

•

•

•

•

•

•

•

•

Pyruvate dehydrogenase complex

•

•

•

•

•

•

•

•

Isocitrate dehydrogenase (activity or mutation)

•

•

•

•

•

•

•

•

•

Succinate dehydrogenase (mutation)

•

Fumarate hydratase (mutation)

•

Glutaminase and/or glutamate dehydrogenase

•

•

•

•

•

•

•

•

•

Glutamine synthetase

•

•

•

Amino acid metabolism

Pyrroline-5-carboxylate reductase

•

•

•

•

•

•

•

•

•

•

Proline oxidase

•

•

•

•

•

•

•

•

•

•

•

•

Aspartate transaminase

•

•

•

Alanine transaminase

•

•

•

•

•

•

Nucleotide biosynthesis

Dihydroorotate dehydrogenase

•

•

•

•

•

•

•

•

Methylenetetrahydrofolate dehydrogenase

•

•

•

•

•

•

•

•

•

•

•
Conclusions
Mitochondria operate as both engine and factory in eukaryotes, coordinating cellular energy production and the availability of fundamental building blocks that are required for cell proliferation. Cancer cells must therefore balance their relative bioenergetic and biosynthetic needs to grow, proliferate, and survive within the physical constraints of energy and mass conservation. In contrast to quiescent cells, which predominantly use oxidative mitochondrial metabolism to produce ATP and uptake glucose at much lower rates than proliferating cells, tumor cells exhibit increased glycolytic rates to provide an elevated flux of substrate for biosynthetic pathways, including those executed within mitochondria. Given these higher rates of nutrient utilization, metabolic flux through mitochondrial pathways and the associated ROS production can often be higher in cancer cells. Not surprisingly, activation of cellular antioxidant response pathways is commonly observed in cancer or subpopulations of cells within tumors [46,78]. Cellular compartmentalization affords a degree of protection from such damaging side products of metabolism, and methods which are able to deconvolute the relative contributions of each cellular compartment (e.g. mitochondria, cytosol, peroxisome, etc.) to cancer metabolism will be crucial to more completely understand the metabolism of cancer cells in the future [74,79]. Ultimately, while mitochondrial dysregulation is widely considered to be a hallmark of cancer, numerous mitochondrial functions remain critical for tumor growth and are emerging as clinical targets.
Following this point, it comes as no surprise that mitochondrial metabolism is highly active in virtually all tumors (i.e., cancer cells, stroma, or both), and investigators have begun targeting these pathways to explore potential efficacy. Indeed, some evidence suggests that biguanides such as metformin or phenformin may limit tumor incidence and burden in humans and animals [80,81]. These effects are presumably due, at least in part, to complex I inhibition of the ETC, which significantly perturbs mitochondrial function [82,83]. However, more insights are needed into the mechanisms of these compounds in patients to determine the therapeutic potential of targeting this and other components of mitochondria. In developing new therapies that target cancer metabolism, researchers will face challenges similar to those that are relevant for many established chemotherapies since deleterious effects on normal proliferating cells that also depend on mitochondrial metabolism (and aerobic glycolysis) are likely to arise.
As we acquire a more detailed picture of how specific genetic modifications in a patient's tumor correlate with its metabolic profile, opportunities for designing targeted or combinatorial therapies will become increasingly apparent. Cancer therapies that address tumor-specific mitochondrial dysregulation and dysfunction may be particularly effective. For example, some cancer cells harbor mutations in TCA enzymes (e.g., FH, SDH, IDH2) or regulatory proteins that control mitophagy (i.e., LKB1) [84]. Such tumors may be compromised with respect to some aspects of mitochondrial biosynthesis and dependent on alternate pathways for growth and/or survival such that synthetically lethal targets emerge. Ultimately, such strategies will require clinicians and researchers to coordinate metabolic, biochemical, and genetic information in the design of therapeutic strategies.
Abbreviations
FDG:

2-deoxy-2-[18 F]fluoro-D-glucose
CH2-THF:

5,10-methylene tetrahydrofolate
10-CHO-THF:

10-formyl-tetrahydrofolate
ATP:

adenosine triphosphate
GOT:

aspartate transaminases
ASNS:

asparagine synthetase
AML:

acute myeloblastic leukemia
AcCoA:

acetyl-coenzyme A
Ala:

alanine
GPT:

alanine transaminases
aKG:

alpha-ketoglutarate
BCAT:

branched chain aminotransferase
Cit:

citrate
cALL:

childhood acute lymphoblastic leukemia
P5CS:

delta-1-pyrroline-5-carboxylate synthase
DHODH:

dihydroorotate dehydrogenase
ETC:

electron transport chain
EGF:

epidermal growth factor
FOCM:

folate-mediated one carbon metabolism
Fum:

fumarate
FH:

fumarate hydratase
Gln:

glutamine
Glu:

glutamate
Gly:

glycine
GS:

glutamine synthetase
GLS:

glutaminase
GDH:

glutamate dehydrogenase
HOTs:

human orthotopic tumors
HIF:

hypoxia inducible factor
ICT:

isocitrate
IDH:

isocitrate dehydrogenase
Lac:

lactate
LKB1:

liver kinase B1
MS:

mass spectrometry
mTORC1:

mammalian target of rapamycin complex 1
ME:

malic enzymes
Mal:

malate
MTHFD:

methylenetetrahydrofolate dehydrogenase
NADH:

nicotinamide adenine dinucleotide, reduced
NADPH:

nicotinamide adenine dinucleotide phosphate, reduced
NNT:

nicotinamide nucleotide transhydrogenase
NMR:

nuclear magnetic resonance
OAC:

oxaloacetate
PET/CT:

positron emission tomography integrated with computed tomography
PDAC:

pancreatic adenocarcinoma
Pyr:

pyruvate
PDH:

pyruvate dehydrogenase
PC:

pyruvate carboxylase
PDK:

PDH kinase
P5C:

pyrroline-5-carboxylate
PYCR:

pyrroline-5-carboxylate reductase
POX:

proline oxidase
ROS:

reactive oxygen species
Ser:

serine
SHMT:

serine hydroxymethyltransferase
SREBP1:

sterol regulatory element binding protein 1
Suc:

succinate
SDH:

succinate dehydrogenase
TCA:

tricarboxylic acid
TRAIL:

tumor necrosis factor-related apoptosis-inducing ligand
Declarations
Acknowledgements
The authors acknowledge helpful comments from members of the Metallo laboratory. We apologize to those researchers whose work we were unable to cite. This work is supported by NIH grants 1R01CA188652 and 1R01CA132847, DOD grant W81XWH-13-1-0105, and a Searle Scholar Award.
Authors' Affiliations
(1)
Department of Bioengineering, University of California, San Diego, La Jolla, USA
(2)
Moores Cancer Center, University of California, San Diego, La Jolla, USA
Copyright
© Ahn and Metallo; licensee BioMed Central. 2015
This is an Open Access article distributed under the terms of the Creative Commons Attribution License (http://creativecommons.org/licenses/by/4.0), which permits unrestricted use, distribution, and reproduction in any medium, provided the original work is properly credited. The Creative Commons Public Domain Dedication waiver (http://creativecommons.org/publicdomain/zero/1.0/) applies to the data made available in this article, unless otherwise stated.