Defects in mitochondrial metabolism and cancer
Cancer & Metabolism
2014
2:10
Received: 21 May 2014
Accepted: 9 July 2014
Published: 17 July 2014
Abstract
Cancer is a heterogeneous set of diseases characterized by different molecular and cellular features. Over the past decades, researchers have attempted to grasp the complexity of cancer by mapping the genetic aberrations associated with it. In these efforts, the contribution of mitochondria to the pathogenesis of cancer has tended to be neglected. However, more recently, a growing body of evidence suggests that mitochondria play a key role in cancer. In fact, dysfunctional mitochondria not only contribute to the metabolic reprogramming of cancer cells but they also modulate a plethora of cellular processes involved in tumorigenesis. In this review, we describe the link between mutations to mitochondrial enzymes and tumor formation. We also discuss the hypothesis that mutations to mitochondrial and nuclear DNA could cooperate to promote the survival of cancer cells in an evolving metabolic landscape.
Keywords
CancerMetabolismMitochondriaTCA cyclemtDNA mutationsOncometabolitesEvolution
Conclusions
In this review, we have explored the link between defects in mitochondrial metabolism, caused by mtDNA or nDNA mutations, and tumorigenesis. We have also discussed the hypothesis that mitochondrial dysfunction not only perturbs cellular bioenergetics, supporting the metabolic transformation of cancer cell, but that it also triggers tumor-promoting (epi)genetic changes mediated by the small molecule metabolites that they release. Given the importance of mitochondria in tumorigenesis, it is not surprising that canonical oncogenes and tumor suppressors exert their functions by regulating mitochondrial function[
7
]. For instance, Trap1[
93
] and the endocytic adaptor protein β-arrestin[
94
] were shown to alter SDH expression and activate a succinate-dependent pseudoxypoxic response in support of their tumorigenic program. Hence, deregulation of mitochondrial function plays a key role not only in tumor initiation but also during tumor progression, where secondary mitochondrial dysfunction would enable cancer cells to adapt to a constantly evolving tumor microenvironment. In this scenario, however, mtDNA mutations, by virtue of their tunable bioenergetic outcome, would represent a more efficient way to adapt to novel metabolic niches than nDNA mutations. We propose that nDNA and mtDNA mutations are co-selected to finely shape the metabolic efficiency of cancer cell during tumor evolution: mtDNA mutations would enable fast and reversible explorations of different metabolic niches, whereas nDNA mutations would permanently fix an advantageous metabolic configuration and pass this information to the daughter cells (Figure
2
). Considering the long-standing evolutionary cooperation between mitochondria and the host cells, it is not surprising that their two genomes are hard-wired for cell survival and proliferation.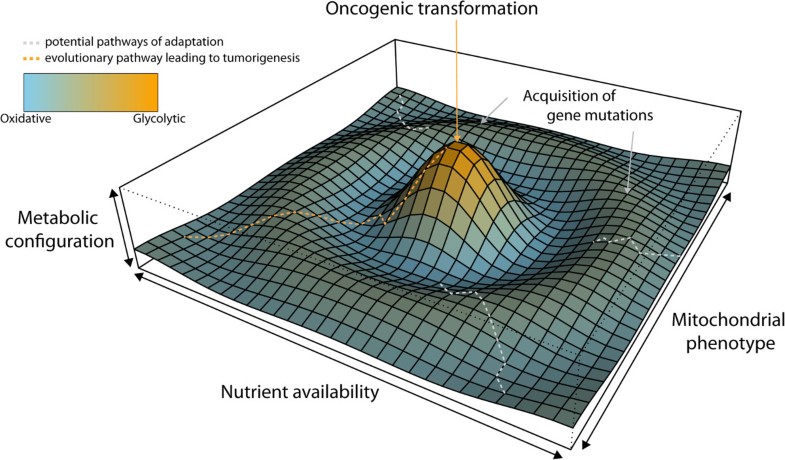 Authors' information
EG is a PhD student of the University of Cambridge in the laboratory of CF. CF is a group leader at the MRC Cancer Unit.
Abbreviations
2HG:

2-hydroxyglutarate
AcCoA:

acetyl coenzyme A
Aco:

aconitase
ADP:

adenosine diphosphate
ATP:

adenosine triphosphate
ATPIF:

ATPase inhibitory factor
CI–V:

respiratory chain complex I–V
CS:

citrate synthase
COX:

cytochrome oxidase
CYT:

cytochrome
EMT:

epithelial to mesenchymal transition
FAD:

flavin adenine dinucleotide
FH:

fumarate hydratase
GSH:

reduced glutathione
HIF:

hypoxia-inducible factor
HLRCC:

hereditary leiomyomatosis and renal cell cancer
IDH:

isocitrate dehydrogenase
Keap1:

Kelch-like ECH-associated protein 1
ME:

malic enzyme
mtDNA:

mitochondrial DNA
NADH:

nicotinamide adenine dinucleotide
NADPH:

nicotinamide adenine dinucleotide phosphate
nDNA:

nuclear DNA
Nrf2:

nuclear factor (erythroid-derived 2)-like 2
OG:

2-oxoglutarate
PGC/PCC:

hereditary paraganglioma and pheochromocytoma
PHD:

prolyl hydroxylases
PTP:

permeability transition pore
ROS:

reactive oxygen species
SDH:

succinate dehydrogenase
TCA:

tricarboxylic acid
TET:

ten-eleven translocation.
Declarations
Acknowledgements
EG and CF would like to thank the members of the Frezza lab for discussing some of the key concepts proposed in the review and Dr. Mike Murphy for carefully reading the manuscript.
Authors' Affiliations
(1)
Medical Research Council Cancer Unit, University of Cambridge, UK
Copyright
© Gaude and Frezza; licensee BioMed Central Ltd. 2014
This article is published under license to BioMed Central Ltd. This is an Open Access article distributed under the terms of the Creative Commons Attribution License (http://creativecommons.org/licenses/by/4.0), which permits unrestricted use, distribution, and reproduction in any medium, provided the original work is properly credited. The Creative Commons Public Domain Dedication waiver (http://creativecommons.org/publicdomain/zero/1.0/) applies to the data made available in this article, unless otherwise stated.