Meeting report

Open Access
Metabolism and microenvironment in cancer plasticity
Cancer & Metabolism
2016
4 (Suppl 1) :1
Published: 15 February 2016
Tumor-associated microenvironment and metabolism have increasingly become major focuses in cancer research, and discoveries in these fields will potentially result in significant advances in treatment and diagnosis. On September 16–19, 2015, the International Society of Cancer Metabolism [
1
] organized its 2nd annual meeting focused on "Metabolism and microenvironment in cancer plasticity" that covered several aspects of cancer metabolism involved in local and systemic aggressiveness. Along with 43 oral presentations and 44 poster presentations, more than 140 participants from all over the world, including 17 invited speakers, participated in an interdisciplinary forum to discuss recent progresses in the field and to identify future directions that should be explored with the highest priority. Many of the presentations focused on the interactions between tumor cells and their surrounding microenvironment, and on how, in turn, the tumor microenvironment, including ions and other small molecules (e.g., CO
2
and NO), released metabolites and normal cells of the surrounding stroma modulate cancer metabolism, behavior, and progression. The need for new preclinical models that better represent the complexity of the cancer microenvironment and of altered tumor metabolism, and new possible approaches for cancer treatment and monitoring through the study of metabolism was also discussed (Fig.
1
). The opening lecture by Paolo Sassone-Corsi (University of California, Irvine, CA, USA) emphasized that a multidisciplinary approach is pivotal for studying cancer. One example is the study of the influence of the circadian clock on cancer biology. Circadian rhythms are governed by a molecular machinery whose function is to maintain rhythmic precision and synchrony between central and peripheral clocks. Most importantly, circadian clocks are intrinsic time‐tracking systems with which organisms can anticipate environmental changes and adapt to the appropriate time of day. At the heart of circadian regulatory pathways is the clock machinery, a remarkably coordinated transcription‐translation system that also utilizes dynamic changes in chromatin transitions and epigenetic control. This epigenetic control provides the pacemaker with a remarkable plasticity that allows adaptation to nutritional input and metabolic fluctuations. Sassone-Corsi highlighted that, in the future, the understanding of the intimate links between cellular metabolism and the circadian clock machinery will provide not only critical insights into system physiology and endocrinology but also novel avenues for pharmacological intervention towards metabolic disorders and cancer.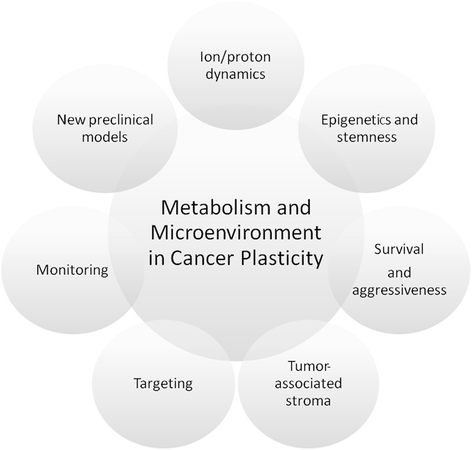 (1)
Laboratory for Orthopaedic Pathophysiology and Regenerative Medicine, Istituto Ortopedico Rizzoli, Bologna, Italy
(2)
Department of Biomedical and Neuromotor Sciences, University of Bologna, Bologna, Italy
(3)
Pole of Pharmacology & Therapeutics, Institut de Recherche Expérimentale et Clinique (IREC), Université catholique de Louvain (UCL) Medical School & F.R.S.-FNRS, Brussels, Belgium
(4)
Department of Oncology-Pathology, Cancer Center Karolinska, Karolinska Institute, Stockholm, Sweden
(5)
Dipartimento Neurofarba, Sezione di Scienze Farmaceutiche e Laboratorio di Chimica Bioinorganica, Polo Scientifico, Università degli Studi di Firenze, Sesto Fiorentino, Firenze, Italy
(6)
Technische Universität München, Institute of Medical Engineering (IMETUM), Munich, Baveria, Germany
(7)
Center for Internal Medicine, Hannover Medical School, Hannover, Germany
(8)
Department of Biology, University of Copenhagen, Copenhagen, Denmark
(9)
Department of Surgery and Cancer, Imperial College, Hammersmith Hospital Campus, London, UK
Porporato PE, Dhup S, Dadhich RK, Copetti T, Sonveaux P. Anticancer targets in the glycolytic metabolism of tumors: a comprehensive review. Front Pharmacol. 2011;2:49.PubMed CentralView ArticlePubMedGoogle Scholar
International Society of Cancer Metabolism. www.iscams.org (2016). Accessed 15 January 2016.